In the U.S., over 4 million workers rely on tips to make a living. The number who can receive tips in addition to other wages is larger still – over 12 million workers in food service jobs take tips. For tipped workers, the need for tips to make ends meet brings about other questions – such as whether employers can legally engage in tip pooling, or if employers are allowed to take tips earned by employees. 
Understanding your rights as a tipped worker in California can help you defend them, ensuring that you're fairly compensated (or know what to do if your employer violates labor laws).
What Is Tip Pooling?
Some employers require workers to "pool" their tips, collecting all tips before paying them out. After gathering the tips, each worker is then paid a percentage of the total pool.
Opinions on tip pooling range across industries and workers. Some support tip pooling under the assumption that employees will collectively provide better service to customers to increase the size of tip pools, ultimately leading to better wages. Others oppose tip pooling under the assumption that it penalizes workers who go above and beyond by giving every employee the same percentage of the overall earnings regardless of their efforts.
What's the Legal Definition of a Tip in California?
A tip is "money a customer leaves for an employee over the amount due for the goods sold or services rendered," according to the California Labor Commissioner's Office.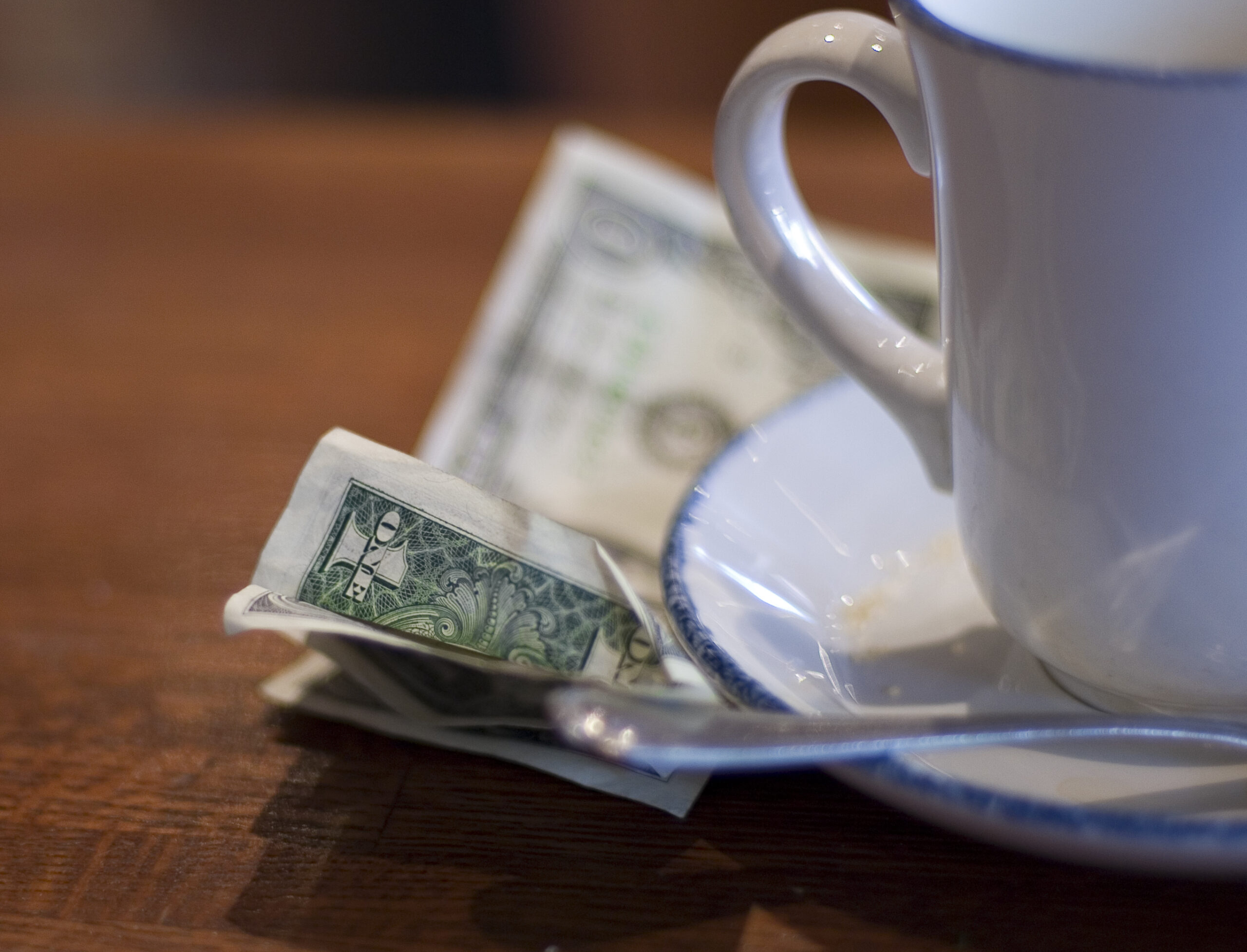 Can California Employers Pool Tips?
Yes. Tip pooling is legal in California. However, California does have more rules and regulations surrounding tip pooling than many other states.
Tips must be distributed in a "fair and reasonable" manner among employees. Most employers who pool tips use a formula to decide what percentage of tips each employee receives from the pool.
If an employer fails to distribute tips fairly, they could be committing a wage law violation. For example, an employer cannot legally discriminate against employees or give them a lesser percentage of tips due to their race, religion, sexual orientation, gender, or other protected characteristics.
Additionally, managers who can hire or fire workers cannot receive a percentage of pooled tips, unless they do the same work as other employees drawing from the tip pool. This prevents most supervisors or managers from taking part in tip pools. However, those who do the same work as other employees – say, a supervisor at a coffee shop who also works as a barista during their shift in addition to other responsibilities – can still claim tips.
It is also illegal for employers to take wages from tip pools, meaning the owner of an establishment cannot take a cut of the tip pool.
Can An Employer Pay Me Less than Minimum Wage if I Receive Tips?
No. In California, tips cannot be counted as part of an employee's wages. That means tipped workers are entitled to minimum wage. Statewide, the minimum wage is $13/hr for companies with less than 25 employees and $14/hr for companies with more than 25 employees. In Los Angeles County, the minimum wage is $15/hr.
In some states, tips can be included in employee wages, which is why tipped workers often make less than the federal minimum wage in many states. California state laws provide employees with greater protections.
Importantly, employers cannot factor in tips when calculating overtime wages. Your employer should calculate your overtime pay based on your hourly wages (minimum wage, for many tipped workers) – any tips you earn will be additional income.
It is also illegal for employers to deduct tips from paychecks in California.
Can My Employer Take My Tips?
No. It is illegal for an employer to take tips. This includes refusing to give an employee tips as a form of punishment. Additionally, employees are entitled to tips as soon as they receive them – an employer cannot reserve tips (unless they have a prearranged tip pooling system in place that is fair and reasonable, as we wrote about earlier).
Can My Employer Take Credit Card Processing Fees from My Tips?
No. According to Labor Code Section 351, employers must pay workers the full amount of tips as indicated on the payor's credit card. Deducting processing fees from tips is a wage law violation.
What Can I Do if My Employer Takes My Tips or Commits Wage Law Violations?
If your employer takes your tips or commits other wage law violations, you have a few options.
You can file a wage claim with the Division of Labor Standards Enforcement. After filing, a Deputy Labor Commissioner will investigate the case and determine whether to penalize your employer. If they decide your employer committed wage law violations, they will arrange a conference and attempt to mediate a resolution.
If parties cannot resolve their differences at the conference, they must attend a hearing. After the hearing, the Labor Commissioner's Office will make a decision.
If an employer commits wage law violations, they may face the following penalties:
Fines up to $1,000;
Up to 60 days in jail, and
Restitution for the employee whose rights were violated.
Alternatively, you can file a lawsuit against your employer. Generally, filing a lawsuit involves retaining an employment attorney, who will then file the suit on your behalf. If your employer does not settle out of court, you may need to attend a hearing before receiving compensation.
Employers cannot retaliate against employees who file a claim or lawsuit against them.
Don't Settle for Less. Work with Proven Employment Lawyers
At Wilshire Law Firm, we've spent over a decade helping California employees defend their rights. Our team is committed to taking corporations to task for violating labor laws – we've recovered over $1 BILLION for clients since 2007.
To schedule a free, discreet consultation with our team, contact us online or give us a call at (800) 501-3011.